Christy Angeletti is a cutting-edge singer/songwriter whose charming allure is only surpassed by her amazing sense of connection to the human experience and her ability to express it in song.
A charismatic mix of insightfulness and hippie-chic sensitivity, enhanced by a whimsical yet kickass attitude, Christy Angeletti's writing articulates the sensibilities of the generation through her perspective. "I love to write songs that evoke emotion; songs that have a little attitude and tell things how they are."
With a mischievous smile and sensuous magnetism, Christy's stage presence is spell-binding. "There is something magical about performing live in front of a huge audience; I come to life."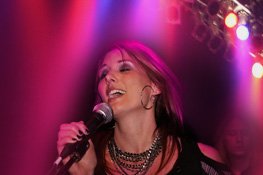 From Columbus, Ohio, Christy Angeletti's singing career began as a little girl, in church and in school. Progressing onward to performing at local events and various venues, opening for major headlining acts and recording in the studios of Nashville.
Christy has had a prolific year writing, recording and releasing new music, filming music videos and perfecting her stage show. Her new releases have had overwhelming reception and feedback attested by a rapidly growing fan base.
Christy's second national radio release, "Tough Enough" made its debut on the NIELSEN TOP 40 Radio Chart on June 17 and repeatedly appears in BILLBOARD MAGAZINE throughout April, May and June.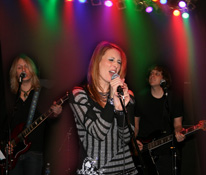 Truly dedicated to her craft, Christy Angeletti, the passionate artist, is continuously cultivating; tirelessly singing and writing, creating with heart and soul.
"Everything leads you to where you are now and everything now will lead me to where I'm going. It's performing and singing that drives me to a place of which I cannot get enough. It's my world and I love it."